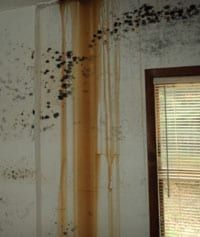 Can I kill mold with bleach?
As a home or business owner, you might wonder if you can safely cleanup and removal mold growth on your own. Successful
microbial remediation is partly about containment and removal. With mold, the work area needs to be contained so
microbial contamination cannot be spread elsewhere. We use high efficiency air scrubbers are used to capture mold spores
from the air while the structure is being cleaned and repaired. This helps reduce the chance of cross contamination and
secondary damage.
The IICRC outlines five major principles of mold remediation.
Make sure safety and health precautions are taken by cleanup professionals and occupants. Mold-contaminated buildings
can be associated with a number of health problems. Anyone involved in the mold remediation process must be protected
from exposure through a combination of practices and controls.
A post-cleanup assessment by an independent environmental expert. An effective mold remediation cannot be developed
without first determining the extent of the contamination to be removed. To ensure that remediation work is being
properly performed, it is highly recommended that appropriate documentation of the remediation process be kept by
project management
Control of mold before it spreads further. Eliminating mold at the source of contamination is essential. Once mold
spores spread through the air, it will be much more difficult to capture.
Oversee the proper physical removal of the mold. The mold must be physically removed from the structure. Attempts to
isolate mold or remove signs of mold on the surface are not adequate. Note that bleach alone cannot kill mold.
Ensure that moisture is controlled to limit future contamination or recontamination. Mold growth is virtually inevitable
if moisture is not controlled. Moisture problems must be identified, located and corrected or controlled as soon as
possible.
Application of these principles may involve multiple disciplines and professionals from a wide range of restoration and
indoor environmental fields.
Copyright © 2012—2017 IICRC®