Fire & Smoke Damage Timeline
It's important to begin fire and smoke damage cleanup as soon as possible.
---
In the wake of a fire that has covered homes with smoke and ash, it's important to begin clean up as soon as possible in order to prevent permanent damage or discoloration from soot residue. The IICRC provides the following tips for fire victims facing clean up:
Practice safety first. Use a dust mask (like painters use) and gloves as you work.
Ventilate the home. Place a box fan in an open window to draw the air and dust out.
Clean from top to bottom. Start with the ceilings, walls and fixtures, and work your way down to the contents of the room, then to the floor.
Vacuum floors and upholstery. Make sure your vacuum cleaner has a high efficiency filter. Otherwise, you risk blowing soot back into the air.
Some draperies, clothing and machine-washable items may be laundered. Use a mild alkaline cleaner to neutralize the acid in the soot. Fine clothing should be dry cleaned.
Most exterior walls (brick, stone, wood, paint, siding) and eaves can be cleaned by spraying with a detergent, agitating soot with a soft-bristled brush, pressure washing from bottom to top, then rinsing from top to bottom.
If the damage and residue are heavy, it may be best to hire a professional to thoroughly restore your home and belongings.
Check with your insurance company to see if smoke damage from outdoor sources is covered by your policy.
If the fire has warped or distorted the structure, consult a licensed general contractor.
Professional restoration technicians know that damage increases and restoration costs escalate the longer neutralization, corrosion control and cleaning is delayed. When homeowners prolong the restoration of their home, they extend the effects brought on by the smoke exposure. The following is a timeline of the effects of fire and smoke on a home.
Within Minutes: Acid soot residues cause plastics to yellow; small appliances located close to the source of combustion discolor; highly porous materials (marble, alabaster) discolor permanently.
Within Hours: Acid residues stain grout in bathrooms; fiberglass bath fixtures may yellow; uncoated metals tarnish, counter tops may yellow; finishes on appliances, particularly refrigerators, may yellow; furniture finishes may discolor.
Within Days: In time, acid residues cause painted walls to yellow permanently; metal corrodes, pits and rusts; wood furniture requires refinishing; vinyl flooring requires refinishing or replace­ment; clothing becomes soot stained; upholstery stains permanently.
Within Weeks: Restoration costs escalate tremendously. Synthetic carpet fibers may yellow or discolor permanently; silver plate is corroded permanently; glass, crystal, china may require replacement due to severe etching and pitting caused by prolonged exposure to acid soot residues.
Cleaning up soot residue must be done as quickly as possible. During combustion, soot residue and volatile vapors are carried by rising and expanding air to surfaces throughout a structure, and are deposited. This process occurs repeatedly until combustion ends, with soot residue building up on surfaces layer by layer. By the time restoration technicians arrive, lacquer-like soot residue may be quite difficult to dissolve and remove.
In addition to removing residue, ridding your home of its smoky odor is necessary. Professionals use this four-step process to remove odors:
Remove the source of the odor, as possible, including unsalvageable debris that contributes to odor generation and recontamination of cleaned and deodorized areas.
Clean salvageable surfaces and items to physically remove odor-causing residue.
Chase remaining odor with an odor counteractant. In the case of smoke, create a deodorizing fog or gas that seeks out and combines with odor-causing substances.
Seal salvageable surfaces that are inaccessible or slightly scorched, not only for aesthetic purposes, but primarily to encapsulate odor and prevent progressive recontamination.
Understanding the effects of a fire can help homeowners evaluate the damage to their home. By learning more about residue clean-up and deodorization after a fire, you can minimize the need for costly repair. Fire and smoke restoration experts can help you return your home and furnishings to a "pre-loss" condition.
Copyright © 2012—2017 IICRC®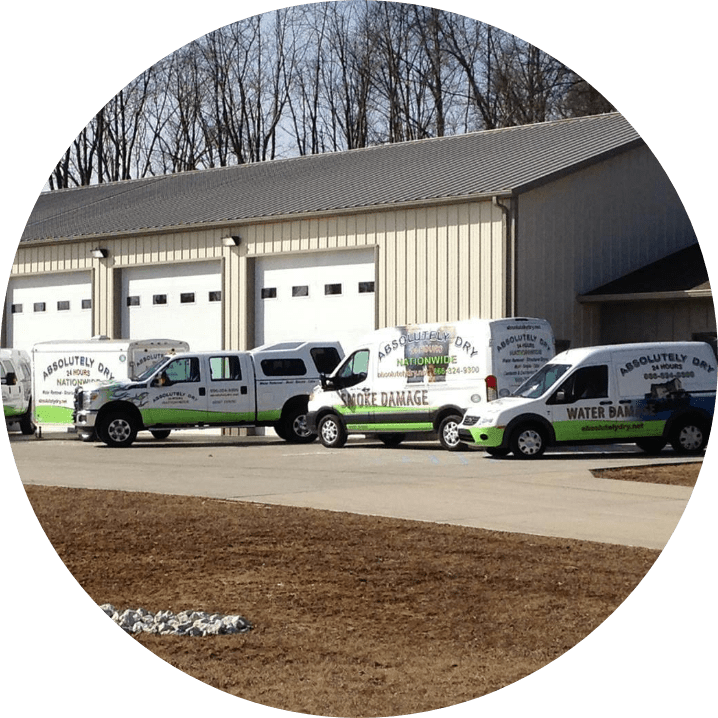 Call Today For 24/7 Disaster Recovery Services in Valparaiso, IN
Founded in 2004, Absolutely Dry, LLC serves the northwest Indiana and Michiana areas with water, fire, and mold emergency restoration services. We utilize state of the art drying techniques and employ certified and professional technicians who are ready for any situation. We are a family owned and operated company, so you can trust that we will provide the restoration services you deserve in Valparaiso, IN!