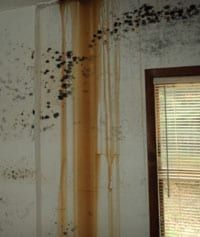 Let us Help With Damage from Ice Storms and Frozen Pipes
With the ice and freezing weather right now in Northwest Indiana, our homes and businesses are at risk from ice dams,
ice storms, and frozen pipes that cause water damage.
It is important to act quickly to prevent any further damage or mold growth. Electrical, gas, structural and other
safety hazards present must be eliminated "before" assessing physical damage to the building and contents.
Once health and safety hazards have been eliminated, we will inspect the building and all contents. Generally, the rule
of thumb is that everything below the water line gets thrown out. Building materials and contents above the water line
should be inspected for discoloration, odor and damage.
We will extract standing water from slabs, basements, crawlspaces, heating systems and anywhere water could be
sitting.
Next, we'll remove all wallboard material (e.g., plaster, drywall, paneling), finished flooring (e.g., carpet,
hardwood, vinyl flooring), insulation and any other wet materials that are below the water line.
Then we'll remove contents damaged by floodwater and inventory all discarded or stored material.
–Keep it dry tip
Use a water-sensing alarm (battery-operated) in moisture-prone areas such as next to the washer, hot water heater, in
the basement and other possible wet zones, so you are alerted to the accumulation of excess moisture.
No one wants to experience the devastation of a flood, but by keeping mold outside where it belongs, you can limit its
impact on the health of your family and home. For more information, please visit www.iicrc.org.
Exerpt from: http://www.iicrc.org/five-steps-prevent-mold-growth-after-flood-a-99.html